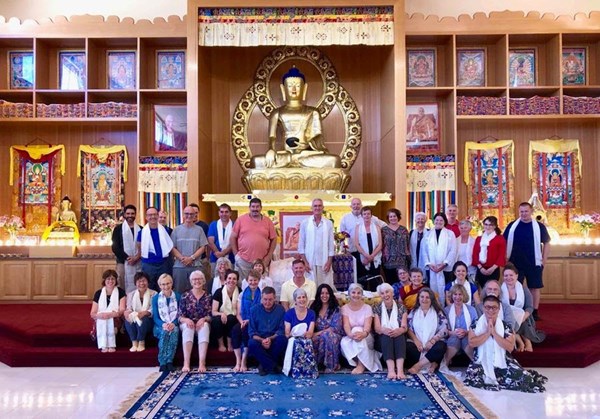 Highly respected teacher, Les Sheehy, will be leading a Mahamudra retreat from 10 June to 16 June, 2023 at the Tibetan Buddhist Society in Yuroke. The centre, known as the Peaceful Land of Joy, is set in beautiful 10 acre gardens. Participants will also have the option of attending online.
The retreat is suitable for beginners and experienced meditators alike.
'Whatever appears is all the nature of mind' – Je Maitripa
Mahamudra meditation is both simple and profound. By allowing our mind to settle into its natural, uncontrived state, we become familiar with the conventional nature of mind. We will learn how to observe our thoughts, find clarity, peace and happiness.
There will be six meditation sessions each day. The first session will commence at 7am on Saturday 10th June and the retreat will finish after lunch on Friday 16 June.
Les Sheehy, has received the profound Tibetan Buddhist teachings from his teachers Venerable Geshe Acharya Thubten Loden and Venerable Zasep Tulku Rinpoche, and has practised meditation, studied and taught throughout his adult life.
Each day's teachings and meditations will draw on the learning of prior days; therefore, it will not be possible to opt in for irregular days or commence after Sunday 11 June. If you have any queries, please email events@tushita.org.
The meditation schedule is as follows:
7am – 8am
9.30am – 11am
11.30am – 12.30pm
3pm – 4pm
5pm – 6pm
7pm – 8.30pm
If you would like to register for the retreat, click button below
.