Christine McKeown describes her first meeting with Venerable Geshe Acharya Thubten Loden.
Venerable Geshe Loden was in Tibet when I first attended TBS classes. His students were teaching the first English rendering of his Graduated Path to Enlightenment, leading meditations, and sharing his instructions for living a happy life. His physical absence was unimportant; their talks contained his personal blessing, and even just lending a hand at his centre inspired one's day.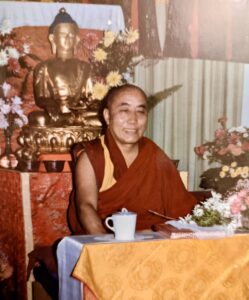 Soon the teacher, the source of all this positive energy, would return to Melbourne. There was excitement at the centre, and a flurry of cleaning and other preparations. On the warm sunny day he arrived, we formed a line along the path, and Geshe-la came with an exuberant smile, delighted to see each and everyone. Inside, he shared his travel experiences, unquestionably permeated with Dharma, which the room enjoyed with much laughter (although it was generally lost on me — understanding Geshe-la's accent would take me a little time).
Like so many others, as a young adult, I sometimes struggled in social interactions. Although happy in life, with a good job, a gentle, supportive, and caring husband and family; yet sometimes I experienced such difficulties. So, a few weeks after Geshe-la arrived, thinking he might offer some good advice, I made an appointment to see him.
On the appointed day and time, with carefully chosen offerings in hand, I walked the stairs to his room, one by one. What would he be like, what advice would he give, this person of whom I'd heard so much?
Entering his room, he was sitting in a comfy chair, and motioned me to put my things down and take a seat on the floor diagonally in front. In his robe, a jumper, and slippers, he presented simply and plainly, but there was great strength in his presence, and a profound, serene, and gentle clarity in the room, almost as if time was still.
After a few questions about myself, he asked, "Yes, you have a question?", and so I briefly explained the matter. He sat for a moment, then talked for a very long time, extraordinarily knowledgeable about world affairs and politics, at times asking my opinion (although I was largely ignorant). Then, he suggested, "Time for you to go home now?" "But …" I asked, "what about my problem?" Then, very gently, he offered, "You're a little sensitive. When you get to work, you should say 'Good morning' to everyone, 'Hello, how are you?' You understand: 'Hello, how are you?' — but no stealing the boss's time." Then he asked about my offering, and I left.
Following Geshe-la's instruction immediately solved what seemed to me a colossal problem. Geshe-la had given me a simple method to open to others first, equally to everyone, and in so doing, they opened to me. It's a Dharma practice that anyone can adopt. And we should. Geshe-la continually reminded us that the essence of Tibetan Buddhism, of Mahayana Buddhism, is bodhicitta. We should begin by opening our hearts, like our own precious mother who cared for us, and like the earth that supports every being, equally.
Most especially, Venerable Geshe Loden gave his blessing, the profound and precious blessing of a holy being. From his heart he shared it with anyone who came to him, or came near him, whether sparrow, student, important guest, or troubled person. When he was speaking to you, he took you into his care as a uniquely important person, and not only you, but everyone else — everyone, every living being was his favourite, equally dear. This was his continuous blessing.
by Christine McKeown