The New Year Meditation Festival 2023 will be held on Saturday 25 February from 10 am to 2.30 pm. Full program below.
You are welcome to join us at the Peaceful Land of Joy Meditation Centre to enjoy the serenity and beauty of the 10 acre gardens, extraordinary Tibetan temple and gentle activities.
This festival we are focusing on the many Buddhist insights and methods which can help us navigate issues to bring peace, hope, and inner strength while retaining a happy mind when confronted with life's most difficult circumstances. The theme is Buddhist Insights for a Challenged World.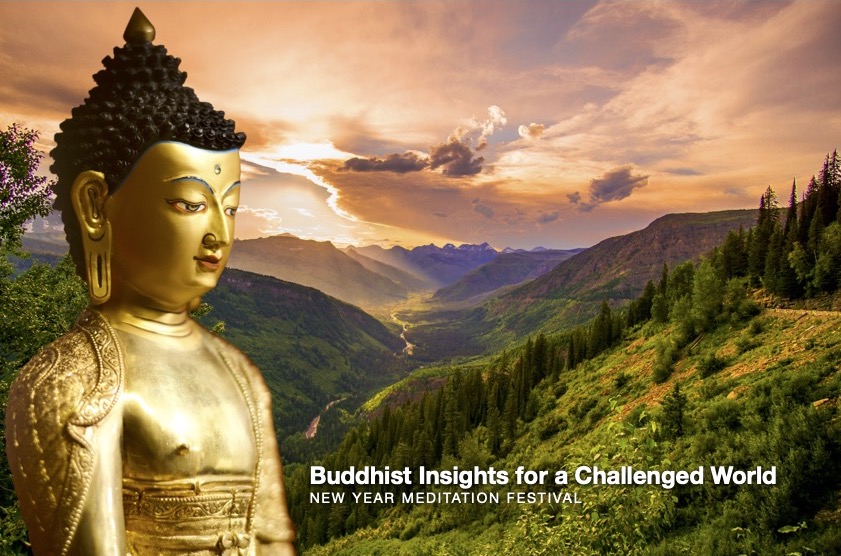 The festival program
10am Opening time
10.30 am Guided meditation with Jonathan Parker in the temple. Uncovering an innate peaceful mind with meditation Learn how meditation can uncover the peaceful and joyful mind you have obscured within you. Through meditation, experience the calmness and clarity that naturally arises when your mind is settled and allowed to rest.
11 am Garden tour
12 noon. New Year Blessing Ceremony
1pm Guided tour encircling the temple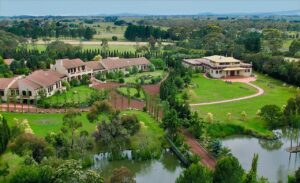 1.30 pm Talk – Brightening the Narrative with Tim McKibben in the temple. If your mind could paint any picture, what would it be? Perhaps not the relentless electronic bombardment of violence, doom and gloom? Why not instead take a refreshing break and imagine the peace and joy of enlightenment into your world? Fresh air is great but fresh thoughts are even better, and the ancient wisdom from the Buddha is perhaps even more relevant today. Let's discover why the peerless master and great scholar Lama Tsong Khapa said: "The human form, at peace with itself, Is more precious than the rarest gem."
1.30 pm Children's meditation near the temple
Tibetan Buddhist Society food cafe
The food cafe will be open throughout the day. On the menu for sale throughout the day will be:
Delicious vegetarian and vegan Tibetan momos (dumplings) – potato and spinach; and veggies with ricotta
Fresh tea, spicy chai, coffee and home made cakes
There will be plenty of opportunities the browse wonderful goods in the centre's Enjoyment Shop and two book stalls too.
Keynote speakers at the Ceremony
Venerable Thich Linh Tan of Melbourne's Nalanda Institute will speak at the New Year Blessing Ceremony, He will be joined by some students who will recite the Heart Sutra.
Dr Kathleen Gregory of E-Vam Institute will explore Being a Buddhist in Challenged Times. Kathleen explains "Challenged times, whether personal or global, can test our sense of meaning; we might even question the point of meditation practice. At such times there is opportunity to review and renew our understanding of what being a Buddhist practitioner means. In this talk we shall look at the Buddhist insight of spiritual transformation to both enrich and inspire ourselves on the Path."
Kathleen Gregory PhD is a long-term Buddhist practitioner and student of the late Traleg Kyabgon Rinpoche IX. She is a psychologist and academic, and taught at Naropa University in Boulder, Colorado 2015-2019, where she served as Dean of the Graduate School of Counselling and Psychology for two years before returning to Australia. She currently works in the School of Education at RMIT University and serves on the Board of E-Vam Institute.
Councillor Karen Sherry, Deputy Mayor of our local Hume City Council, will kindly contribute an address.
A host of activities for your enjoyment and learning
Gardens
Relax in the peace and serenity of the centre gardens
Garden tour at 11 am, covering organic cultivation and the art of rose and salvia pruning, and companion planting
Meander around lawns, lakes with many birds and wildlife
Unwind under the shade of golden robinias and Californian redwoods
Enjoy the beauty of many-coloured salvias, roses, marigolds, satin hibiscus and many more plants and trees
Temple viewing
View the magnificent traditional Tibetan temple with amazing golden roof, spires and ornaments
A quiet reflection with the 12 ft statue of Shakyamuni Buddha
Encircle the magnificent temple, with a guide explaining the iconography and Tibetan culture, at the end of the New Year Blessing Ceremony
In the temple
Guided meditation at 10.30 am with Jonathan Parker
The inspiring New Year Blessing Ceremony in the temple at 12 noon
Talk and guided meditation at 1.30 pm with Tim McKibben
More….
Delicious vegetarian and vegan food – Tibetan moms (dumplings) for sale throughout the day, and fresh tea, spicy chai and coffee and cakes
Children's meditation at 1.30 pm near the temple
Visit the Enjoyment Shop with beautiful gifts and Tibetan items
Festival gate entry*
One adult – $10 or $8 concession
One adult and one child – $15 or $12 concession
Two adults and school age children – $25 or $22 concession.
Proceeds support maintenance of the temple and gardens.
*The facility charge include entry and access to – Lectures & meditation, New Year Blessing Ceremony, Children's meditation, Gardens and Garden Tour, Guided Temple Walk.
Address
Tibetan Buddhist Society, 20 Cookes Rd, Yuroke, near Craigieburn. Turn into Cookes Rd from Mickleham Rd – 45 minutes from the cbd, 10 minutes along Mickleham Rd from the Tullamarine Fwy. (check for traffic conditions as it may be quicker to access from Woodlands and Craigieburn Roads)
Inquiries: events@tushita.org