Welcome to the Buddhist Spring Festival 2023
The Festival will be held on Sunday 12 November from 10 am to 3 pm. You are welcome to join us at the Peaceful Land of Joy Meditation Centre to enjoy the serenity and beauty of the 10 acre gardens, extraordinary Tibetan temple and gentle activities.
Compassion – the heart of Buddhist practice
The theme of this year's Buddhist Spring Festival is Compassion – the heart of Buddhist practice. Compassion is the very essence of Buddhist philosophy, meditation, and the Buddhist way of life.
We are concerned for the great number of people currently struggling with the cost of living and the pressures that it is placing on our community and its resilience, but also take heart in the response of a compassionate and caring community through the work of many individuals and organisations.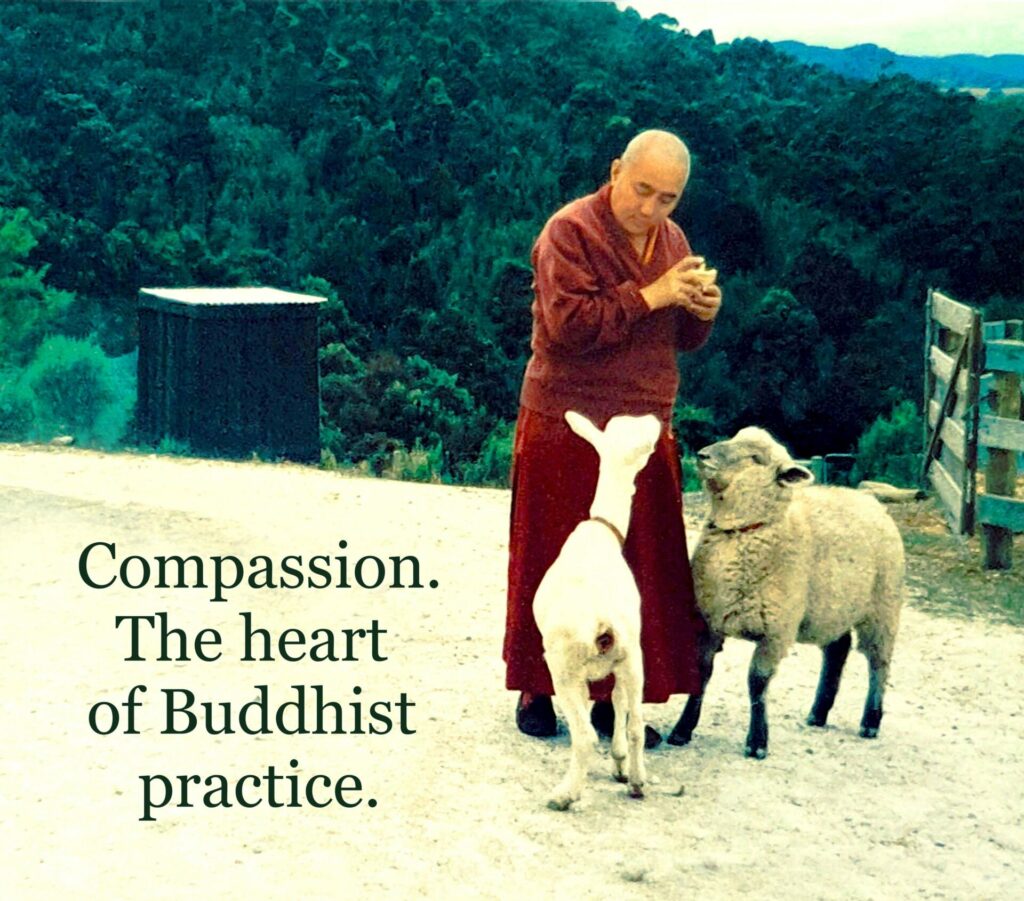 Ceremony for World Peace
The festival program will include the marvellous Ceremony for World Peace in the temple at 12 noon, guided meditation, a special Dharma talk, tour of the garden and guided encircling of the magnificent traditional Tibetan temple, children's meditation and food stall where you can purchase delicious refreshments. More details to follow in coming weeks.
There will be plenty of opportunities to browse wonderful goods in the centre's Enjoyment Shop and we are hoping a couple of Tibetan stalls will open too.
Plenty of joy for everyone!
Gorgeous gardens
Relax in the peace and serenity of the centre gardens
Garden tour at 11 am, covering organic cultivation and the art of rose and salvia pruning
Meander around lawns, lakes with many birds and wildlife
Unwind under the shade of golden robinias and Californian redwoods
Enjoy the beauty of many-coloured salvias, roses, marigolds, satin hibiscus and many more plants and trees
Viewing the magnificent temple
View the magnificent traditional Tibetan temple with amazing golden roof, spires and ornaments
A quiet reflection with the 12 ft statue of Shakyamuni Buddha
Encircle the magnificent temple, with a guide explaining the iconography and Tibetan culture, at the end of the Ceremony for World Peace
Learning in the temple
Guided meditation at 10.30 am
The inspiring Ceremony for World Peace in the temple at 12 noon
Talk and guided meditation at 2 pm
More enjoyment…
Delicious vegetarian food for sale throughout the day, including momos (Tibetan dumplings), and fresh tea, spicy chai and coffee and cakes
Children's meditation at 1.30 pm
Visit the Enjoyment Shop with beautiful gifts and Tibetan items
Festival gate entry*
$15 single, $10 concession
$20 for one adult & one or more children, $15 concession
$25 for two adults and school age children
Proceeds support maintenance of the temple and gardens.
*The facility charge includes entry and access to – Lectures & meditation, Ceremony for World Peace, Children's meditation, Gardens and Garden Tour, Guided Temple Walk.