Open heartedness, joy and wisdom
Path to Enlightenment or lam.rim, maps the path from where we are now – wherever that may be for us individually – to the supreme open heartedness, joy and wisdom of enlightenment. People often ask – there are so many meditation practices and teachings: where do I start?
The Path to Enlightenment answers that question – leading us step by step through the ever expanding perspectives of the three scopes, enabling us to realise our potential for enlightenment. And from the moment we set foot on that path our positive qualities and experiences begin to flourish – our compassion, our love, our resilience, sensitivity, energy and wisdom. Our life becomes lighter and joy is closer to the surface.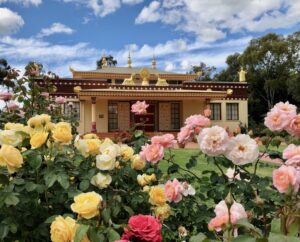 Beautiful and comfortable retreat setting
In this retreat, Les Sheehy will lead us through the teachings and meditations on lam.rim based on Ven Geshe Acharya Loden's definitive text, Path to Enlightenment in Tibetan Buddhism. The practice of lam.rim is life changing and the opportunity to focus on the entire scope of the lam.rim in the beautiful and comfortable retreat setting of the Peaceful Land of Joy is not to be missed!
Additional retreat information – please click here.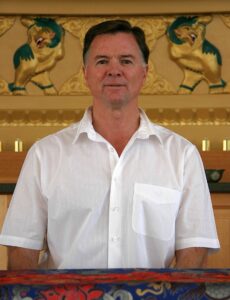 Les Sheehy, director of the Tibetan Buddhist Society's Perth centre, has received the profound Tibetan Buddhist teachings from his teachers Venerable Geshe Acharya Thubten Loden and Venerable Zasep Tulku Rinpoche, and has practised meditation, studied and taught throughout his adult life.
Les is renowned for his clear, practical and down to earth teachings, catering for people at all levels of experience of Buddhist philosophy and meditation.
RETREAT DETAILS
Can anyone attend the retreat?
Yes. Path to Enlightenment presents the core principles of Buddhist philosophy and has the wonderful quality of showing us how to meditate on those teachings step by step.
For people who are already familiar with lam.rim, this retreat will deepen your practice and understanding. The retreat is equally a wonderful opportunity for people who are not familiar with lam.rim or meditation but who wish to gain a holistic experience of the perspectives and meditations taught in the Buddhist tradition.
More information
You can find detailed information about the retreat – including onsite and online attendance options, session timetables, catering and pricing here. You can also contact us by email with any questions: events@tushita.org
Registration
You can register to attend the retreat here. We encourage you to register early, especially if you are considering staying onsite for the retreat – which offers the best retreat experience. Accommodation is limited and is available on a first come first served basis.